Joined

Mar 15, 2016
Messages

421
Likes

186
How Can Review Snippet Keywords Help My Business Visibility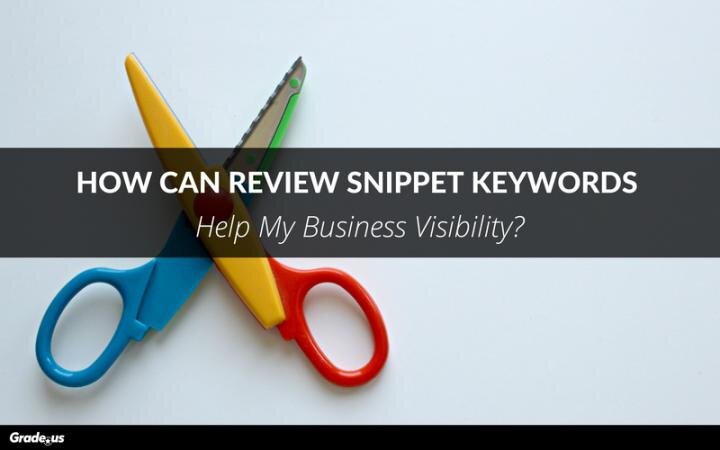 Your customers won't read.

Jakob Nielsen, usability expert with the Nielsen Norman Group, states repeatedly that people don't read. When it comes to online content customers don't read, they scan.

How bad is it?
Nielsen goes on to state, "On the average Web page, users have time to read at most 28% of the words during an average visit; 20% is more likely."

It's not just Nielsen.

Research shows readers scan. Large online publications like the New York Times and Slate agree. You're not going to read this article from beginning to end.
No one is interested in anything you have to say
That's the fear, right?

You're afraid that customers won't be interested in anything your business has to say. The worst part of this is the fact that you know, for the most part, it's true.

People aren't interested.

Here's the catch and your opportunity. Customers care about you when they know you genuinely care more about them. Once they believe in you, your platform or what you have to say - things begin to look very different.

They begin to read.
How do we know? They tell us. Medium.com analyzed 10,000+ data points to figure out whether people read or not. They found people are eager to read good content if it:
Is written at a 6th grade reading level


Uses 12 – 15 words per sentence and is easy to read

Can be read within 6 to 7 minutes

Uses power words like best, definitive, great, etc.

Relies on sentence case rather than title case
Not only do people read, research shows they're interested in long form content. Here's the catch. Your content has to be concise, scannable and objective. It also has to be content they're interested in reading.

Okay, what do customers want to read?
Customers are less interested in what you have to say...
And more interested in what other customers have to say about you, at least at first. The Pew Research Center found 67 percent of weekly shoppers and 50 percent of shoppers overall read online reviews.

Which is where review snippets come in.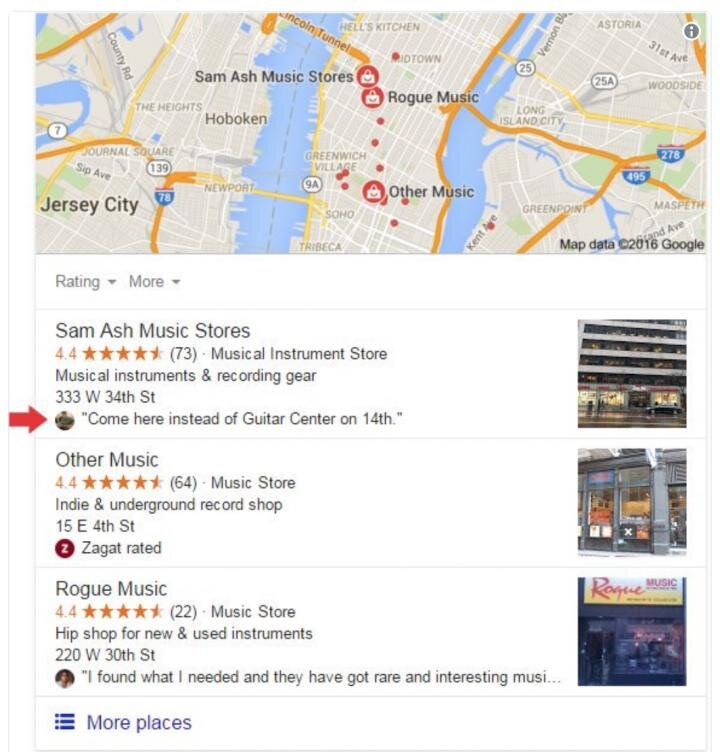 Customers use Google to search for what they want. What's the very next thing they do?

They scan!

Potential customers quickly scan the search results in front of them, looking for anything that grabs their attention or turns them off. If they see positive reviews they dig deeper, lots of negative reviews and they move on.

They haven't clicked through yet.

They're scanning for information, which means you're vulnerable. Let's say you outrank a competitor in Google. You have spots 1 to 3 in the search results for your desired keywords. But they have a few review snippets showing off their 5 star reviews. Who's going to get the click?

You or them?

Research shows we use as much as 60 percent of our brain for visual processing. There's also the fact that shoppers are conditioned to respond to 5 stars. They know exactly what fifteen hundred 5-star reviews mean.

Safety.

That's bad news for those without review snippets. Maybe they'll come back and maybe they'll run into you in the future, but it's less likely without the right introductions.
Review snippets draw scanners in
What exactly are review snippets? Google breaks it down for us.

"A rich result (previously known as a rich snippet) of a review or rating markup from a review website, usually an average of the combined rating scores from reviewers. Review snippets appear in Google Search results either under the search result or in the Google Knowledge Cards."

So, Google combines scores from review websites and displays your average rating? Nice!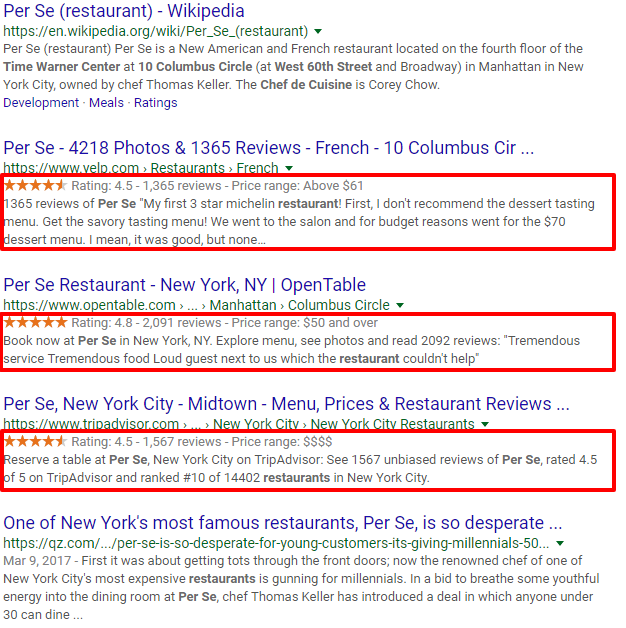 Google provides review snippets for local businesses, movies, books, music and products in general. That's important because it tells you where their focus is and how it applies to your business.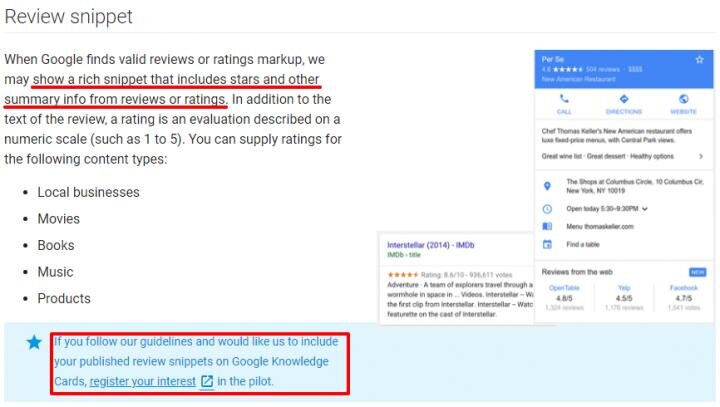 These "review snippets" come in two varieties.

1. The Critic Review. It's a single review article that has been written, published or curated for your business. It's a notable review from a local food critic, product or app reviews from tech publications (e.g. Ars Technica, CNET, TechCrunch, etc.).

​
2. Review Snippets. A review snippet that's pulled from a review website and included in search results or knowledge graph cards.​
Which one do you need?

It really depends on your goal. If you're looking to maximize online visibility for your business you'll need both. That makes sense when you think about it. Focusing on both snippet types maximizes your visibility which, when combined with search rankings, enables you to dominate results pages.

Like this.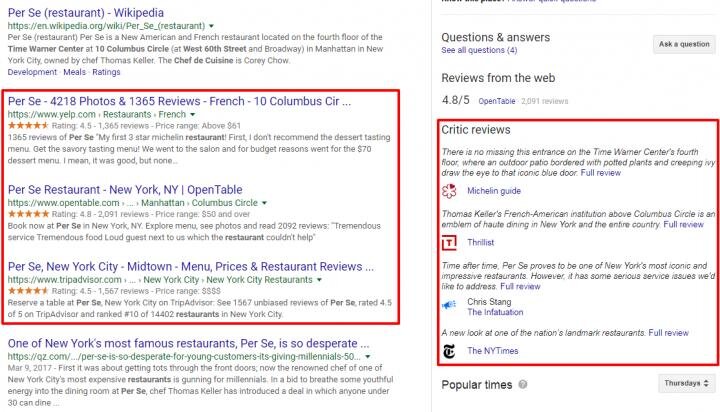 Is it really that important though?

It seems like such a small detail. It can't make that much of a difference, can it? It can, and it does make a big difference. In a recent post, SEMRush found several domains received a significant amount of organic traffic from, you guessed it, review snippets.


· A whopping 70 percentof organic keywords for AllRecipes.com are being generated from review snippets

​
· 66 percent of organic keywords for FoodNetwork.com come from review snippets
​
Looking at several top 500 domains, we see that review snippets play a much bigger role than expected.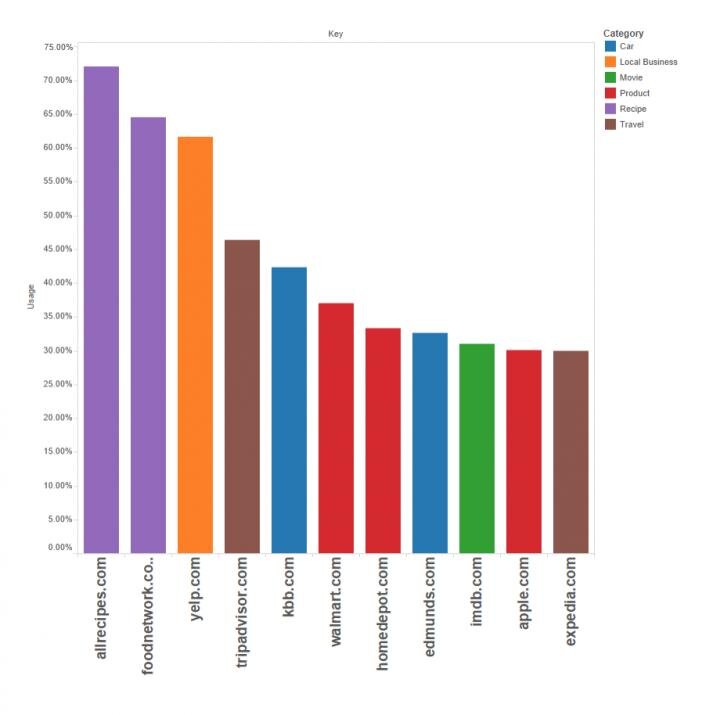 Can you actually use keywords and review snippets to maximize your online visibility and outperform your competitors? Or, is this more theoretical?

Is this a practical goal to have?

Absolutely.

With the right approach you can use review snippets to attract a significant amount of attention and shutdown your competitor. But it starts with clarity about your situation and a plan.

Read the rest of Andrew's post here. He goes on to provide 3 next step tactics for marketing your valuable review snippets.