Joined

Mar 15, 2016
Messages

470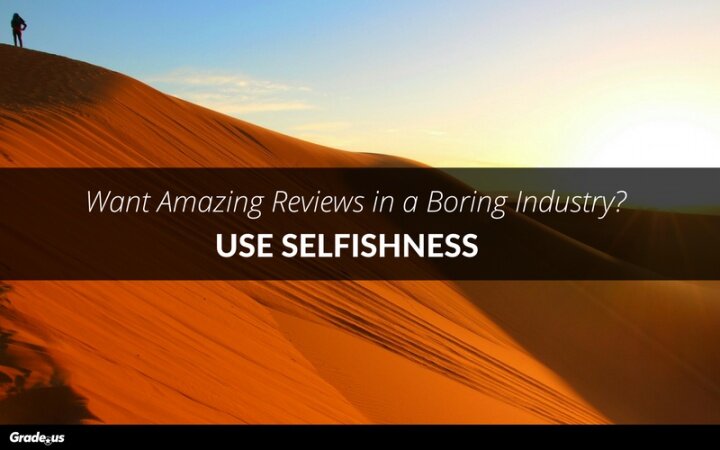 ​
Want Amazing Reviews in a Boring Industry? Use Selfishness Your product is boring…

… If you're selling insurance. Running a manufacturing business, shipping container company or software development firm? Your product is boring too. If your product is boring you already know it.

But it's not just the product that's boring, it's your industry. Bring up insurance with customers and watch as they quickly become overwhelmed, glaze over and tune out.

That's a problem, isn't it?

You want to get more customers and stand out from your competitors. You're eager to share glowing reviews from happy customers with prospects.

Only customers aren't all that eager to share.

It's frustrating, isn't it? Customers are drawn to great reviews, but those same customers hesitate when it's time to share their reviews. They're not exactly chomping at the bit to review a product or service they find boring or uninteresting.

You know the value of a great review. Your customers know the value of a great review. How do you get them to share? It's not like you can make a boring topic like shipping or manufacturing exciting.

Or can you?

Selfishness makes boring industries exciting

Did he just say selfishness was okay? Absolutely, here's why. As it turns out, selfishness has two faces.

When we think of selfishness, we think of the predatory kind. The kind that motivates bullies to lie, cheat and steal to get what they want. The kind that motivates the greedy to steamroll other people to be first in line.

This kind of selfishness is, as you know, gross and unethical.

Then there's the other kind of selfishness. The kind customers display when they come to you for help. When customers come to you for help they're completely focused on… you?

Hah, No.

They're focused on two things "I and me."




How can you help me?
Have you helped other customers like me?
Can you give me a discount?
Why should I trust you?


If you're an experienced pro you've seen this kind of selfishness. Customers are selfish because they have to be. I call it survival selfishness.

A wrong move could be financially devastating, career ending or deeply humiliating.





Consequences can be painful and severe. Selfishness shields customers from a potential disaster.



Read the full article to see Andrew's 5 Steps for Triggering Emotional Responses Using Selfishness (the good kind).