Joined

Jun 28, 2012
Messages

14,436
Likes

4,292
Google has a HOT new LOCAL keyword research tool called the Keyword Planner.

It shows detailed keyword analysis by city.

The LOCAL keyword research you can do now is pretty amazing! This post will show you why, now that you have a tool, you should be doing research by city to find out how people actually search for that product/service in that part of the country!

In addition to showing you screenshots of the Keyword Planner in action - used for LOCAL research

I'm going to show you some research that points to very specific local keyword theories we've discussed here that answer important local KW questions.

Below I'll show insights that highlight:

.:.

How search volume can differ based on the GEO region

.:.

How keyword with no GEO modifier is usually significantly higher in search volume

.:.

Whether more people search for City Keyword or Keyword City (varies by location and KW)

.:.

How for some KWs

plural

gets more searches with LESS competition

Ready. Set. Go. Let the screenshots begin. (At bottom of each screenshot I annotate highlights for points I want to illustrate with each example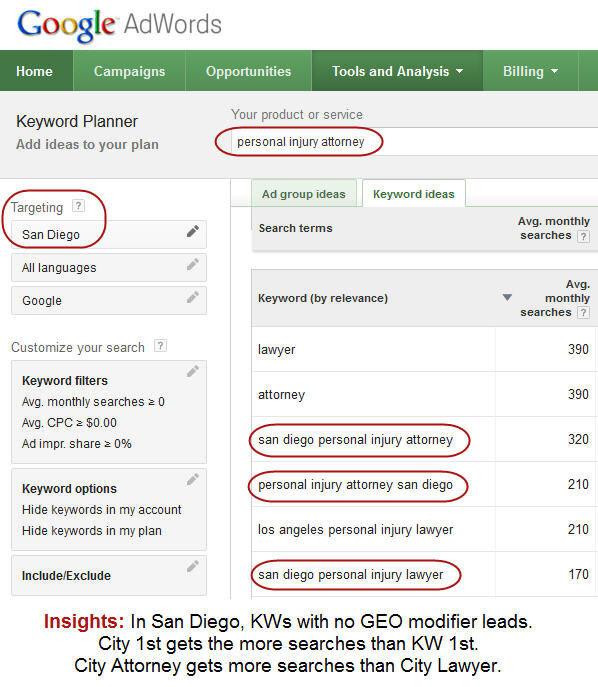 ~~~~~~~~~~~~~~~~~~~~~~~~~~~~~~~~~~~~~~~~~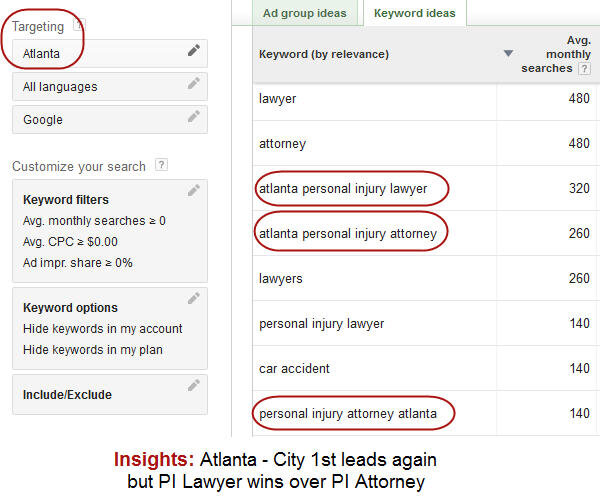 ~~~~~~~~~~~~~~~~~~~~~~~~~~~~~~~~~~~~~~~~~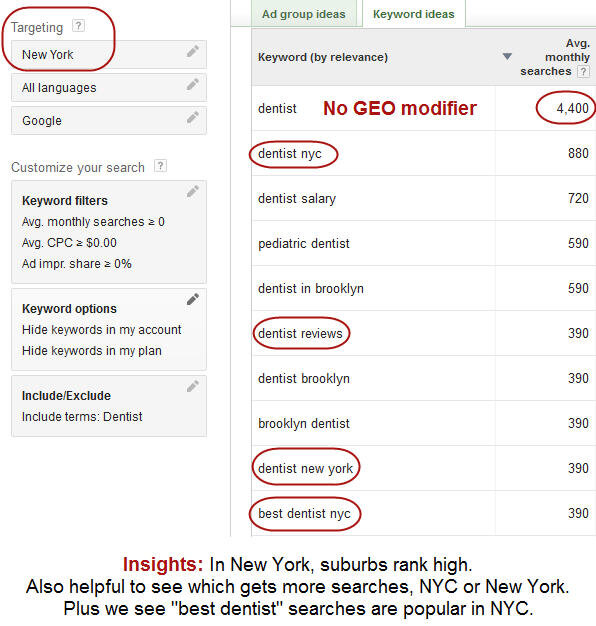 ~~~~~~~~~~~~~~~~~~~~~~~~~~~~~~~~~~~~~~~~~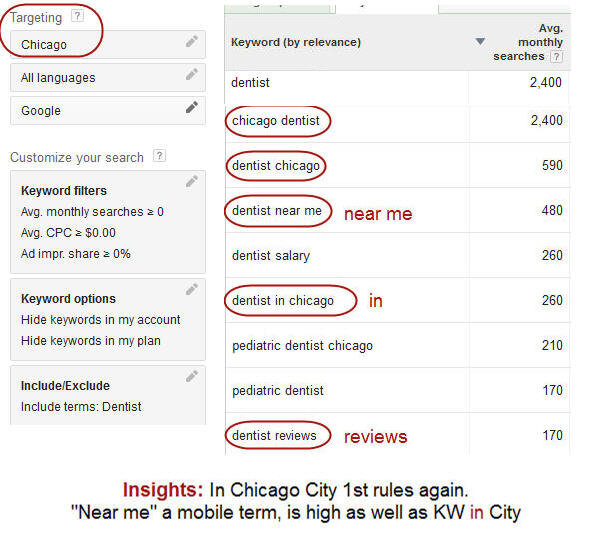 ~~~~~~~~~~~~~~~~~~~~~~~~~~~~~~~~~~~~~~~~~
PLURALS - The Local Longtail you Can't Forget to Target
​
This one also illustrates something I teach in my Local SEO course. For certain search terms MORE search for plurals yet there is far less competition for plurals typically. So it's an easy win.
THE NUMBERS TELL THE TALE!
plumber
s
san diego 480 searches (More searches)
plumber san diego 390 searches
"plumber
s
san diego" 169,000 competing (1/2 the competition!)
"plumber san diego" 384,000 competing
This tool also helps to answer a very important question we've discussed many times.

Do more people search keyword only, city keyword or keyword city?

The answer is - it depends on the KW and location. TEST IT!
So there you have it. Just a few juicy examples of why it can pay to do LOCAL KW research to discover what types of searches are most popular in certain markets.
Here's an article from Search Engine Land with more info about the new Google Keyword Planner:
How to Use The Keyword Planner ? The New Keyword Tool From Google AdWords
Questions? Comments?

Like it? Please share it! This is new info I don't believe anyone else has discussed in terms of the impact for LOCAL search.