Joined

Mar 15, 2016
Messages

462
Likes

232
13 Types of Content to Include On Your Online Review Management and Marketing Services Page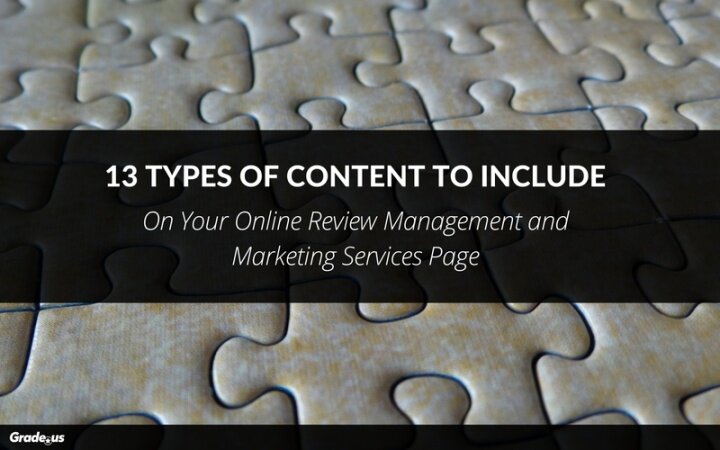 ​
13 Types of Content to Include On Your Online Review Management and Marketing Services Page
Designing a service page for Online Review Management and Marketing (ORMM) can be a challenging endeavor for most agencies and consultants. Since the terms 'Reputation Management' and 'Online Review Management and Marketing' frequently get used interchangeably, it can be confusing for potential clients to understand what services they're looking for and what they actually need.

When I speak with new Grade.us customers, we frequently discuss to how to promote their services. But before we begin to plan what's going to be included on the services page, we need to understand exactly the services we'll be offering to our clients.

Are we providing a DIY platform for them to manage their own online reviews?

Are we replying to online reviews on behalf of the client?

Are we providing them with the tools to market and amplify their positive reviews?

Are we actually offering Reputation Management and intend on providing legal services to have negative mentions of a business removed or replaced with positive content?

There's only so much content we'll want to include on our service page without overwhelming our prospects.

Here are 13 types of content to include on our service page that will help us stand out from competitors and entice prospects to hire our agency.
1. Grab Attention With a Catchy Headline

2. Explain What ORMM Is

3. Break Down the Value Proposition of ORMM

4. Explain Who Your Services Are For

5. Include a Table or Set of Icons of the Features Included in Your Service

6. Use an Explainer Video of Your Services

7. Include Statistics Highlighting the Importance of Online Reviews

8. Highlight Which Online Review Sites You Monitor

9. Show off Your Reporting and Marketing Deliverables

10. Include a Contact/Sign Up Form

11. Differentiate by Industry

12. Use FAQs to Remove Any Confusion From Your Services

13. Include a Tool For Prospects to Scan Their Current Online Review Performance
What examples have you seen of amazing ORMM Service Pages?