Joined

Mar 15, 2016
Messages

458
Likes

228
Paid Advertising Solutions For Hyperlocal Businesses: The Most Bang For Your Buck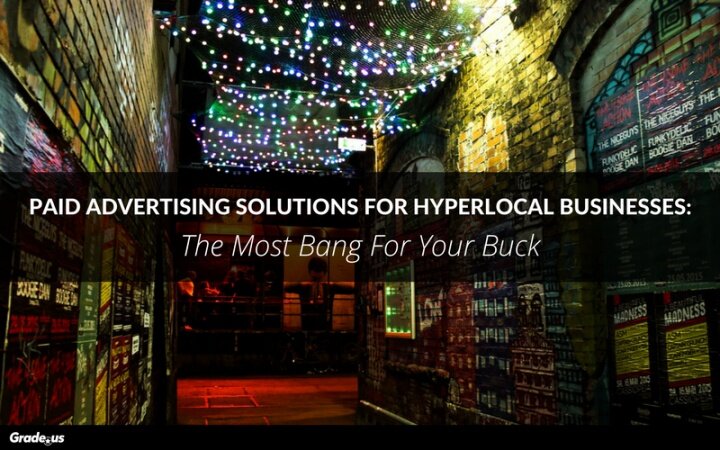 Is your local business forgettable, easy-to-ignore?

If you're running a local business, you know the value your product or service provides. That's the problem, your prospects don't. It's tough to draw more of them into your business because you're a hyperlocal business.

You're a tiny fish in a large ocean.

The options your customers have is enormous. Odds are, they can find an online or offline competitor who's willing to give them exactly what they want. Some of your competitors are even willing to take a loss to win a customer.

How are you supposed to compete with that?
You can't compete... if you take the conventional route
If you're a hyperlocal business, you need to reach a very specific audience. You're not looking to serve everyone in your industry because you can't. You're tied to a specific location for one reason or another.

You're confined by license and certifications. Such as, an attorney, electrician or skilled producer who's licensed in a specific part of the state.
You have ties to a particular region or area. Location is an inherent part of your product or service. A Realtor in Los Angeles typically won't rely on clients from San Francisco to sustain their business. If anything, they'll probably attract a specific clientele from a specific part of L.A.
You're serving a specific region or locale. Dry cleaning pick-up and delivery, diaper, food and grocery deliveries, as well as child care, are all examples of region specific, hyperlocal businesses.
The typical approach many local advertisers take is to blanket their target audience with ads. In fact, it's not uncommon to see ads from a local or region specific provider who isn't anywhere close to your area.
The negative effect on their conversion rate is automatic
But, why do these advertisers do this? Don't they know better? Couldn't they focus their advertising on the specific customers in their area?

Maybe.

If they're using the right advertising platform.

What?

The right advertising platform? Aren't they all the same?

No, unfortunately. Advertising platforms aren't automatically tailored for hyperlocal advertising. Some ad platforms claim to offer it (but don't do it very well), others don't offer it at all and many aren't able to implement it in a way that generates meaningful results.

Which is exactly what hyperlocal businesses need.

That's the question though. Which advertising platform will generate the greatest return for hyperlocal businesses?
Getting the most bang for your buck is impossible...
If you're unfamiliar with hyperlocal advertising. So, before we delve into which advertisers will generate the most bang for your buck, we need to make sure we have a good handle on hyperlocal advertising.

What exactly is hyperlocal advertising?

Hyperlocal advertising allows marketers to use a smartphone's GPS data to serve ads to a target audience in a precise geographic market.

Hyperlocal advertising is used in a few specific ways.

1. Geo-fencing: A marketer creates a geographic fence around a specific area. Any customers in your target audience who pass through or are in this zone see your ads.
2. Retargeting: Customers who were in your geo-fence are tagged and retargeted with ads. Ideally, these ads make an irresistible offer that lures customers in.
3. Contextual ads & insights: A hyperlocal region that's dependent or based on contextual data. This refers to a smartphone user's physical location.
As a marketer, you may end up using one or all of these methods to generate the response you need.

If you're a dentist, you could:
Target geo-fenced searchers who entered the query, ?kids dentist in Chicago.?


Offer a discount for their kid?s first visit.

Retarget geo-fenced visitors, offering an additional incentive/gift for the first 10 customers who respond.

Target your customer?s friends, families and neighbors by creating a contextual fence around each of their neighborhoods.

If you're an attorney you could:
Target corporate prospects in select metropolitan areas using contextual ads.


Advertise via social, display and search advertising.

Provide corporate prospects with a free guide, checklist or quiz outlining risks to their business.

Retarget contextual, geo-fenced customers with a free offer to fix their problem.

Limit the offer to X clients, to control your time, limit your loss and maximize your conversion rate.

If you're a plumber you could:
Target geo-fenced searchers in major metropolitan areas.


Use triggering events to serve ads to geo-fenced searchers (e.g. heavy rains coming, free sump pump check-up).

Disqualify searchers in specific high cost/low margin areas (e.g. rural areas).

Advertise via search to capture initial attention, retarget via display and social networks to increase conversion rates.

Give customers a steep discount on home maintenance subscription services.

Hyperlocal advertising isn't a one size fits all proposition.

That's really good news.

Why?

You know your business, product or service best. Hyperlocal advertising gives you the ability and freedom to customize your ad campaign around your business.
Andrew went into a great deal more depth in the rest of his article. One of our longer posts. Check out the rest of his great tips here.